It's been a long time since I posted about The Last Musketeer.  But there have been some exciting developments since then.
For those of you who are unaware of what The Last Musketeer even is, it's a trilogy I wrote back in 2011-12 about a modern day kid named Greg Rich who gets transported back to Paris 400 years ago, where he ends up bringing together the Three Musketeers for their first adventure — and becoming the infamous D'Artagnan.
For the past few years, it has been relatively hard to get these books — and the second two in the series were never even released in paperback.
Well that has all changed!  Some of you may have noticed this beautifully redesigned version of The Last Musketeer in your bookstores recently: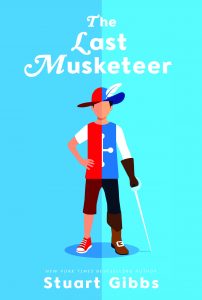 Well, the next two books in the series will be re-released this spring!  (Eagle-eyed readers of this website may have already noticed that this has been mentioned in the 'Upcoming Releases' on the right hand side of this site.)  On February 26 (which also happens to be the release date of Lion Down) you will finally be able to get The Last Musketeer: Traitor's Chase in paperback:
And on May 7, the final book in the series, Double Cross, will be available:
And if you prefer audiobooks, the series will soon be available that way too.
If you have never had the chance to read this series, here it is!  It's full of adventure, swashbuckling, mystery and humor.  I've always been proud of this series (my son used to claim it was his favorite of mine) so I hope you check it out.
You can start by getting The Last Musketeer by clicking here.